Visitors
Visitors are warmly welcome to Pumpherston Golf Club seven days a week throughout the year, subject to course availability.
Please contact the Club professional prior to arrival to ensure a tee time is available to avoid thereby any clashes with members and societies.
You can look forward to an excellent round followed by a relaxing drink and some fabulous food in the Clubhouse Bar.
We are a fairly relaxed club, but we do ask visitors to respect our rules and standard golfing etiquette to ensure their visit runs smoothly.
In common with other clubs we do request that visitors abide with our dress code.
Although handicap certificates are not mandatory, we do prefer golfers to be of a sufficient standard for them to be able to enjoy their round and not to inconvenience other players when out of the course.
Please visit the Visitor Offers Page for the latest special offers and for those keen to enjoy Pumpherston Golf Club to take full more that we offer and excellent day ticket rate allowing unlimited golf.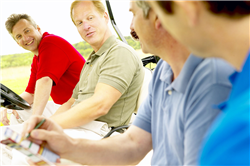 Pumpherston are proud to be a member of the 1895 Club which offers other Club members the chance to enjoy courtesy of 40 courses in the U.K., Ireland, France and New Zealand.

We are within easy reach of many other fine courses in Fife and the Lothians, so why not include Pumpherston in your golf tour of Scotland?To book online, please click on "visitors - book a tee time"
2022 VISITOR GREEN FEE / SOCIETY CATERING
Golf Only prices:
9 holes weekday £15, w/end £20
18 holes w/day £30, w/end £40
36 holes w/day £40, w/end £50
Packages for minimum of 12 golfers:
PAR (18 holes, roll & coffee, Soup & sandwich) w/day £35, w/end £45
BIRDIE (18 holes, roll & coffee, 2 course meal) w/day £40, w/end £50
EAGLE (36 holes, roll & coffee, Soup & sandwich, 2 course meal) w/day £55, w/end £65
A party of 12 players or more would also receive:
A complimentary 4 ball voucher
A return to play card for only £10.00 to every player
Our Club Professional can provide nearest the pin and longest drive markers. A half-way house and other additional extras can also be made available on request. Tee off times are normally 09:30 for morning rounds and 14:30 for afternoon rounds. On competition days these times may vary. Buggies and trolleys are available to hire.
Why not combine your visit to Pumpherston with some rounds at other clubs in the region? Follow the link to the view details of many other local courses: http://www.golf-link-scotland.com/edinburgh-lothians.html
CONTACT US
For more information and initial enquiries please complete an ENQUIRY FORM or contact our Office (Option 2) or the Club Professional (Option 1) on 01506 433337