Weddings at Pumpherston
Pumpherston Golf Club represents an excellent choice for those seeking an outstanding location in which to celebrate their special occasion.Wedding receptions can all readily be catered for.
For couples tying the knot we feel we are able to offer the best in comfort and service.
We are located in a spectacular setting, which acts as a wonderful backdrop, allowing your wedding photographer to produce those memorable images, which you will cherish for a lifetime.
It is also possible to have the service conducted at the club with the assistance of a local minister and we can set up the clubhouse in such a way that the happy couple even have a traditional aisle to walk down.
PLANNING & CATERING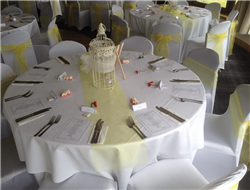 No two events are the same and for that reason we prefer not to set packages, but rather meet with you to discover your specific requirements and then set about meeting and exceeding expectations.
Our Catering Team - Pentland View are outstanding and experienced in catering for functions and the excellence of the cuisine is matched only by the excellence of service.

CONTACT US
We are happy to welcome you and your guests to Pumpherston for your special occasion.

For more information and initial enquiries for planning your special occasion / event please complete an
ENQUIRY FORM
or contact our Office on 01506 433337 - Option 2 (Mon - Fri: 9.00 - 12.00)