The Course
So how do you score round Pumpherston's 6,000 yard, par 70 layout?
Who better to ask than the club's PGA professional.
"You've got to hit it pretty straight, its not a wide open golf course, there's lots of shapely holes - there are a few straight ones - so for the better player, being able to shape your shot is an advantage"
"For the higher handicapper or novice player, being able to keep the ball in play - shorter but straighter - is an advantage. Pumpherston has many water features, a bit of rough and it is primarily tree-lined, If you are a longer hitter, then a driver is not often required"
"Its easy walking, shapely, panoramic and challenging and there's an array of different challenges from tight tee shots to tough greens surrounded by water"
"The greens are built to USGA specifications, and are generally firm and flat, there are some undulations but nothing too extreme, they are usually protected by green side bunkers or water hazards, so accurate approach play is important to keep a good score"
"Yes its a challenge, but it's a challenge that you will enjoy and one that is definitely fair"
Signature Hole - The 2nd - Pomferstoun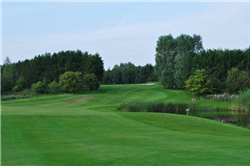 This is a wonderful golf hole, its lined with trees and boasts fairway bunkers, green-side bunkers and a daunting water hazard. It provides a real test for all levels of golfer and for gents its a par 4 - or even a bogey 5 - is a fantastic result.
An accurate tee shot of 210 yards leaves a similar length second shot, which must avoid watery hazard short left and a sandy trap on the right. The green shed balls off to the left and has a generous slope from back to front. Good and bad golfing memories are created here every time you tee off and play hole number 2: Pumferstoun.

Even taking more shots than you would care to here will only leave you wanting to come back for more and determined to better your score next time round.
Signature Hole - The 13th - The Saughs
"Willows which by water stand, Ease us to the Summerland"
Hole 13's name comes form the beautiful mature willow trees, which used to tower behind the green. The trees have fallen foul to recent storms, however their name still lives on and the beauty of the little par 3 remains timeless. New willows have been planted and future generations will once again enjoy a splendid backdrop to this little beauty.

This wee gem of a hole may only play 143 yards, however the green sits on an angle and is guarded by some green-side bunkers, a small pond and a meandering stream. The surrounding woodlands shelter and encourage the wind to swirl around, making the tee shot harder than it should be.

Signature Holes - The 16th - The Cooler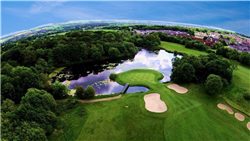 "Does fortune favour the golfing brave, or end in a splash and a watery grave?"
The 16th Hole is truly a memorable golf hole. At only 250 yards, this par 4 is a tantalising birdie opportunity. Most visitors are lured in by the first glance, but look a little closer and you'll soon have second thoughts.

The green mushrooms out into a natural pond with the entrance only 8 yards wide. Whilst the approach shot is generally a short distance, the narrow entrance and large expanse of water all add to the excitement and almost always change the dynamics of the golf shot.
Hole 16 also provides a wonderful opportunity to see some of our glorious wildlife.